IBR Login
Institute of Operating Systems and Computer Networks

About us

Connected and Mobile Systems

Reliable System Software

Algorithms

Education

Services

Research Cooperations
EMMA - Environmental Monitoring in Metropolitan Areas
Motivation
Area-wide measurements of air pollutions become important to municipal authorities due to several national and European climate directives. Nowadays, air pollution in metropolitan areas is measured with the help of few fixed measuring stations. Afterwards, the measured values are projected on larger areas.
The goal of EMMA is to develop a decentralized and cost- efficient architecture for area-wide measurement of air pollutants. Vehicles of existing public transportation systems are used to continuously acquire environmental data. The measured values are exchanged between different vehicles with the help of WLAN. Since vehicles only meet each other sporadically, techniques from the fields of Car2X communications and Delay Tolerant Networks are used for data exchange. The measured value are delivered to a central gateway which forwards the messages to the evaluation server. Here, they are analyzed and any actions like bans on driving may be taken if necessary. The results of several measurements in the city of Braunschweig showed that the concept of exchanging information between vehicles works very well. Communication is possible even without direct line out sight and at higher distances between the vehicles. Besides distributing measurement values, the architecture of EMMA may also be used for e.g. the exchange of passenger information.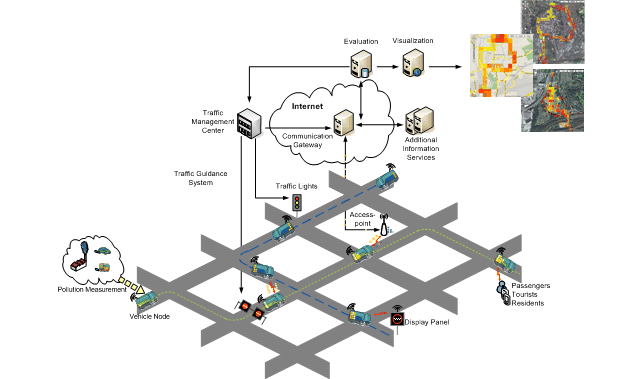 Die Forschungsfragestellungen mit denen wir uns im Rahmen von EMMA beschäftigen, umfassen folgende Gebiete:
Erstellung einer Simulationsumgebung für DTNs

Für die Erforschung neuer Protokolle und Mechanismen entwickeln wir eine Simulationsplattform für DTNs auf der Basis der Netzwerksimulators ns-2. Zusammen mit einem Tool zur Modellierung realistischer Bewegungen von Fahrzeugen des ÖPNV auf der Basis von echten Fahrplandaten soll es möglich sein wirklichkeitsnahe Simulationen durchzuführen und Protokollmechanismen sowie die Informationsverteilung im Netz zu evaluieren.

Wegewahlmechanismen für DTNs

Wie finden Nachrichten in DTNs zu ihrem Ziel, wenn man nicht weiß, wann das nächste Mal eine Verbindung zu einem anderen Netzteilnehmer besteht und auch nicht sagen kann wer das sein wird oder wohin er fahren wird? Wir erforschen neue Strategien für eine effiziente Wegewahl in opportunistischen Netzen.

Informationsverteilung in ÖPNV Netzen auf der Basis von DTNs

Im Rahmen von EMMA suchen wir nach neuen Strategien für die Verteilung und Aggregation von Informationen in Busnetzen auf der Basis von DTNs. Dabei betrachten wir sowohl das Szenario des Einsammelns von Messwerten, die an einen zentralen Server geschickt werden sollen, als auch den Fall das Daten von einem oder mehreren zentralen Punkten an alle oder bestimmte Busse ausgeliefert werden. Im Vordergrund stehen dabei immer ein möglichst geringer Bedarf an festinstallierter Infrastruktur und eine hohe Skalierbarkeit.

Entwicklung eines optimierten DTN Protokolls für eingebettete Systeme

Für die Evaluierung des Verhaltens von DTNs in realen Kommunikationsumgebungen ist es wichtig, das System auf eine günstige und eingebettete Hardwareplattform zu portieren, die uns für Messungen zur Verfügung steht.

Durchführung von Feldtests zur Analyse der Leistungsfähigkeit von DTN unter realen Bedingungen

Feldtests sollen zeigen, wie sich ein reales DTN Netz im praktischen Einsatz verhält. Die Ergebnisse finden direkt Verwendung in den anderen Aktivitäten.
| Title | Type | Supervisor | Status |
| --- | --- | --- | --- |
| Simulation-based Evaluation of Message Delivery in Disruption Tolerant Networks | Diploma Thesis | Dr. Michael Doering, Dr. Sven Lahde | finished ~2007 |
| Simulation and Evaluation of Communication Performance in Bus Networks | Diploma Thesis | Dr. Michael Doering, Dr. Sven Lahde | finished ~2007 |
| Entwicklung eines DTN-basierten Fahrgastinformationssystems auf der Basis von Fahrzeugknoten und Smartphones | Diploma Thesis | Dr. Michael Doering, Dr. Sven Lahde | finished ~2008 |
| Analyse der realen Kommunikationsbedingungen in Fahrzeugnetzen zur Realisierung mobiler und verteilter Informationssysteme | Studienarbeit | Dr. Sven Lahde | finished ~2006 |
| Entwurf und Implementierung eines Verfahrens zur unterbrechungstoleranten Kommunikation zwischen Fahrzeugen des ÖPNV | Diploma Thesis | Dr. Michael Doering | finished ~2008 |
| Entwurf und Implementierung eines Werkzeugs zur Erzeugung von Abdeckungskarten | Bachelor Thesis | Dr. Michael Doering | finished ~2009 |
| Entwurf und Analyse eines DTN-Routingverfahrens für ÖPNV-Netze | Diploma Thesis | Dr. Michael Doering, Dr. Sven Lahde | finished ~2009 |
| Title | Type | Supervisor | Status |
| --- | --- | --- | --- |
| Simulationsumgebung für Delay Tolerant Networks | HiWi Job | Dr. Michael Doering | finished |
| Implementierung eines perfekten DTN-Routers | HiWi Job | Dr. Michael Doering | finished ~2010 |
Sven Lahde, Michael Doering, Wolf-Bastian Pöttner, Gerrit Lammert and Lars Wolf: A practical analysis of communication characteristics for mobile and distributed pollution measurements on the road, in Wireless Communications and Mobile Computing, Vol. 7, No. 10, pages 1209-1218, John Wiley & Sons, Ltd., December 2007 (LDP+07, DOI, BibTeX)
Sven Lahde, Michael Doering, Wolf-Bastian Pöttner and Gerrit Lammert: Mobile and Distributed Measurement of Air Pollution in Metropolitan Areas Using Car2X Techniques, in Proceedings of 3nd Symposium on Informationssysteme für mobile Anwendungen (IMA), Braunschweig, October 2006 (LDP+06, BibTeX)